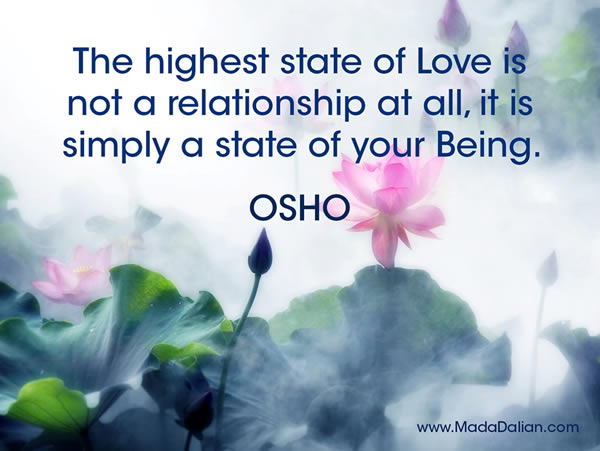 "The highest state of love is not a relationship at all, it is simply a state of your being" Osho
It is rare to experience the above kind of love- to be in the presence of someone who unconditionally provides and nurtures you as the shadows of your own personality emerge! Such love holds space for dark moments of anger, jealousy, grief, neediness, insecurity, insincerity and anything else that is hidden away, to surface. Such love remains in non-judgment and in total acceptance, and openly and graciously is willing to assist you, whilst you fumble your way through trying to transform these states into light.
Such a being "wants nothing" for themselves, but has seen the tricks of the ego-mind and thus takes nothing personally. Such a being holds millions of people together on this planet in her own vibrational frequency of total love, relentlessly pushing forward to assist her fellow travellers into higher planes of personal development.
She knows no other joy, but to help her friends to become lighter, experience less suffering and internal angst, and just longs for the day when her friends can see their own flame of bright light too.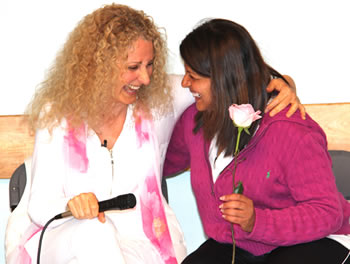 I have been extremely fortunate to have fallen under the wings of such love…the love of my cherished, wisdom-filled, genius authority…… Mada Eliza Dalian.
She was sitting at my doorstep here in Vancouver when I was in my darkest moment of need! She is truly a Buddha of the modern age, a mystic with profound depth and love to share. I am blessed to have found this "Human Xray Machine" that can tell me more about me than I could ever see and has shown me "Who I am"!
Mada Eliza Dalian calls a spade a spade. She authentically carries her razor sharp knife to anything that is not serving us as human beings. She has single handedly revolutionized the quality of my "internal" life.
No words do justice to her precision and expertise in alleviating my pain and inner angst, carefully showing me the road towards authentic existence and my mission on this planet. Thus she has also revolutionized my "external material" life too.
Layer by layer my story has unfolded into greater clarity, openness and purpose. Mada has helped me to claim back my self- worth as a woman, guided me out of insecurities and neediness that surfaced when I was not earning money in the material world, and helped me to transform my most important relationships back into harmony.
Best of all, as a "mother" she has shown me how to help my children in a truly important way, so that they can be self-motivated and self- sufficient happy leaders of their own lives.
THANK YOU. THANK YOU. THANK YOU. XX